Yang Zhenbin, Secretary of the CPC JLU Committee, met with Academician Dan Shechtman, Nobel Laureate
On September 16, 2018, Yang Zhenbin, Secretary of the CPC JLU Committee met with Academician Dan Shechtman, the 2011 Nobel Prize winner of Chemistry from the Israel Institute of Technology who was attending the first Future Science Forum of the Jilin University.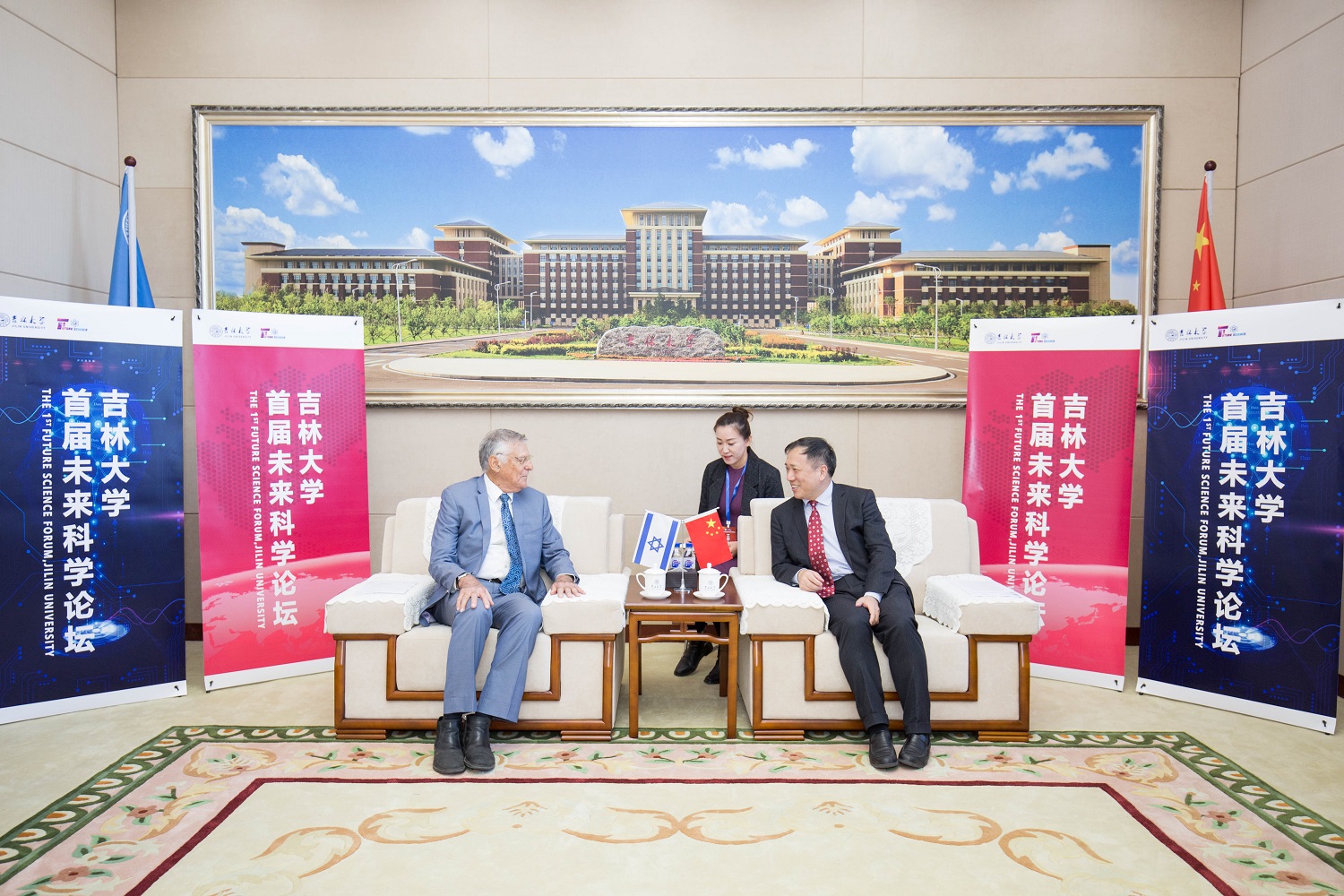 Mr. Yang firstly expressed warm welcome to Academician Shechtman for his visit again to Jilin University for the first Future Science Forum and extended gratitude for his concern and support for Jilin University. Academician Shechtman is an internationally renowned scientist, who has deep feelings for Jilin University. With his help, the cooperation between the Center for Innovation and Entrepreneurship Cooperation of Jilin University and Israeli universities and institutes keeps stepping up toward new heights with fruitful results.
Yang pointed out that on the basis of friendly exchanges between China and Israel, cooperation and exchanges between universities and scientists are of great significance to the friendly relationship between both countries. The first Future Science Forum of Jilin University mainly relies on the United Laboratory for Future International Cooperation in Science, aims to bring together world top academic masters to jointly discuss the issues related to the scientific frontier and the future of mankind, and provides an opportunity for the teachers and students of Jilin University to make close contact with these masters, understand the scientific frontier and expand international horizons. It has been more than four years since the last visit of Academician Shechtman to Jilin University. During the period, Jilin University kept on continuously developing rapidly and enhancing its international influence and recognition. We are confident in the future development of the university. In the process, Academician Shechtman is expected to provide more guidance and suggestions on the development of the university and of the United Laboratory for Future International Cooperation in Science, and help more outstanding teachers and students of Jilin University improve their abilities to international dialogue and cooperation.
Academician Shechtman firstly thanked Jilin University for the warm reception. He said it was more than 30 years since his first visit to China, and that his footprints had spread to almost all provinces in China, much more frequent to China than to any other countries. He witnessed China's increasingly rapid development and changes, and also China's growth from "Made in China" to "Created in China". He believed that science and technology are the drive and core of social development, which are creating and changing our lives. Faced with the status quo that a large number of young people refused to choose the major of science and engineering, as well as the increasingly severe challenge against the aging population, science education should start with children, who should be infused with the ideals and concepts of become scientists and engineers from their time of kindergarten. Academician Shechtman affirmed the achievements of Jilin University in science and technology education and scientific research and looked forward to the upcoming first Future Science Forum of Jilin University.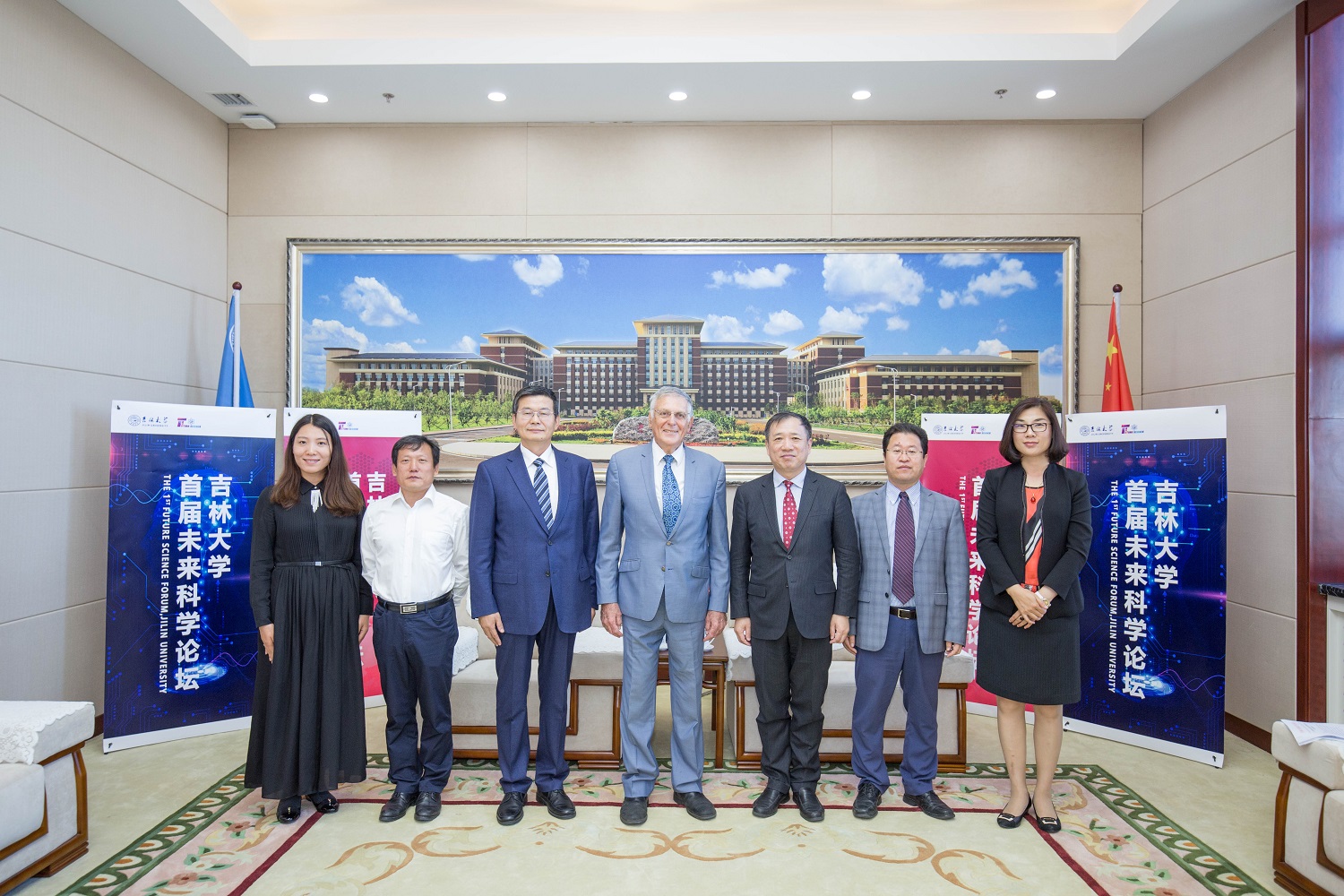 Zheng Weitao, Vice President if Jilin University, as well as relevant leaders of the Chemistry College of Jilin University, the China-Israel Innovation and Entrepreneurship Cooperation Research Center and the International Cooperation and Exchange Office, also attended the meeting.
Prof. Shechtman is a professor of the Engineering Materials Department of the Israel Institute of Technology, a professor of the Iowa State University and the Arms National Laboratory. He is a foreign academician of the National Academy of Engineering of USA and of Russian Academy of Sciences, academician of Israeli Academy of Sciences and Humanities, as well as a member of American Association for the Advancement of Science. He was appointed Honorary Professor of Jilin University in 2014.
Professor Shechtman has won many international awards, including the Wolf Prize in Physics, the Gregory Aminoff Medal of Royal Swedish Academy of Sciences and the EMRS Prize, etc.. He has a high academic repute in the world. He has discovered icosahedral phases through TEM, opening up the new science of quasicrystals, with his research focusing on the development of tough magnesium alloys for various applications. By studying the unique structures and properties of quasicrystals and quasi-periodic materials, Prof. Shechtman also oriented his research to the practical application of quasicrystal materials, such as the manufacture of fine durable instruments and new non-stick coatings. In honor of his great achievements in discovering quasicrystals, Prof. Shechtman solely won the Nobel Prize in chemistry in 2011.